Covid: Jersey to enter 'hospitality circuit breaker'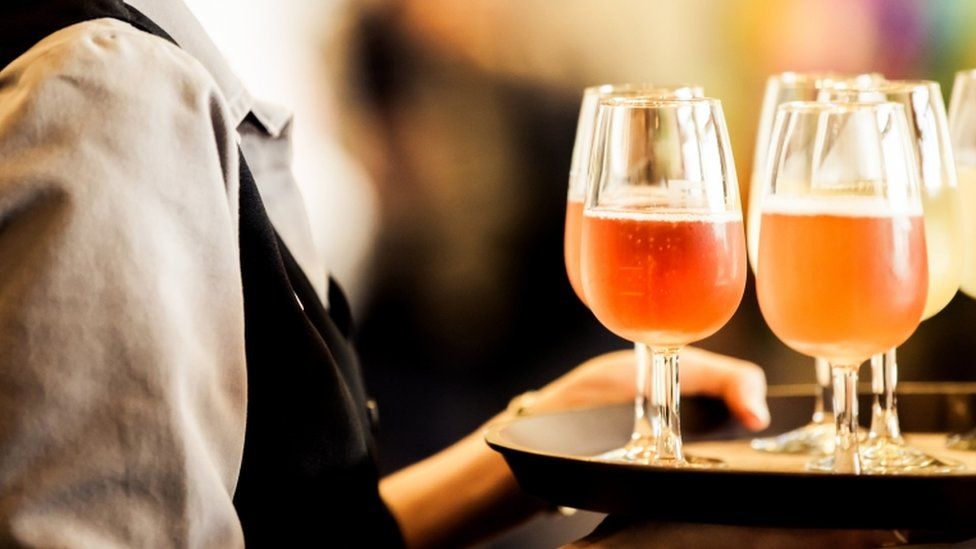 Pubs, bars and restaurants in Jersey are set to close from 00:01 GMT on Friday for up to a month in order to tackle a surge in Covid cases.
The "hospitality circuit breaker" announced on Wednesday comes amid fears health services could be overwhelmed.
Food and hospitality outlets, except takeaways, will have to shut.
All shops can stay open, but indoor sport and fitness classes and gyms must close and the 2m (6.6ft) distancing law is to be brought back into force.
Chief Minister John Le Fondre said the recent rise in cases on the island presented "a real and immediate risk to health services... and islanders' lives".
The circuit-breaker measures are expected to remain in place until 4 January.
One pub owner said measures should have been introduced sooner to try to save jobs and Christmas trade for the hospitality industry.
'More stringent restrictions'
There are currently 331 active cases on Jersey with the majority - 231 - symptomatic and eight cases being treated in hospital.
On Wednesday, 56 new Covid cases were identified, the biggest daily total of new infections recorded so far.
Senator Le Fondre said Jersey's R number was currently between 1.4 and 1.9, which "means each case is, on average, passing the infection on to more than one other person".
"This is too much and we need to introduce more stringent restrictions to protect islanders."
Jersey "now stands at an important crossroads in our pandemic response", Senator Le Fondre said, adding: "I know that collectively these measures represent a significant restriction...particularly at this time of year, when we want to be celebrating and spending time with loved ones and friends.
"But we need to prevent our health services from being overwhelmed, and ensure we are still able to celebrate during the festive period."
Support for affected businesses would be provided under the co-funded payroll scheme, according to the chief minister.
Sean Murphy, who runs the Lamplighter Pub in St Helier, said the move should have come "a lot earlier to try save Christmas".
He said having to close over Christmas and the new year would cost people their jobs and the industry thousands of pounds.
"Everybody in hospitality understands the reasoning of it because of Covid, but it's the timing of the closure," Mr Murphy said.
Analysis: Freddie Miller, Political Reporter, BBC News
When Jersey's politicians agreed in July to reopen the borders, there were no known active cases of the virus.
And while the numbers increased in the following months, many felt the situation was under control - largely thanks to a system of rapid border testing.
But within days, the mood has changed significantly.
The number of cases has more than doubled since 25 November, with a series of parties and social events blamed.
Amid growing concerns about the ability of the health service to cope, these restrictions were announced just 48 hours after a previous tightening of the rules, and the day after masks were made mandatory in shops and supermarkets.
The government insists it has acted decisively.
But many have criticised ministers' reaction, with one prominent backbencher arguing they have "dithered since late October".
And while some will see the closure of hospitality as an over-reaction, with Christmas just three weeks away, others believe it is too little, too late.
Rules on households mixing over Christmas will be announced in the next few days.
Health Minister Deputy Richard Renouf warned the island would need to open its Nightingale hospital if cases continued to rise.
Related Internet Links
The BBC is not responsible for the content of external sites.