Clive Kemp: Jersey's last veteran of Dunkirk dies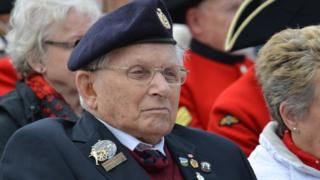 Jersey's last veteran of Dunkirk, Clive Kemp, has died at the age of 98.
Born in Jersey in 1920, Mr Kemp lied about his age to join up when Nazi Germany occupied the Channel Islands in 1940.
He was with the British Expeditionary Force when France was invaded and helped to load casualties on to ships at the Dunkirk evacuation.
The constable of St Helier, Simon Crowcroft, said Mr Kemp always remained "modest" about what he had achieved.
"Although he was quite happy to go into schools and talk about the war and the importance of it, he didn't make a great deal about it.
"I think he had that in common with the other Normandy veterans.
"It was extraordinary what he achieved in his lifetime and it was privilege to have known him," he said.
More stories from the Channel Islands
After helping to dig up unexploded bombs in London during The Blitz, Mr Kemp trained as a bridging engineer.
He was one of the first to land on Sword Beach on D-Day on 6 June 1944.
He helped build vital Bailey Bridges across occupied Europe, often under fire, so tanks could get across and press home their attack.
Mr Kemp returned to Jersey after the war and in 2015 campaigned for medals to be presented to the widows and children of veterans.
"Let's face it, if we hadn't gone over to France in 1944, Jersey would still be ruled by the Nazis," he said.
He was one of the founders of the Jersey Normandy Veterans Association and was awarded France's highest medal, the Legion d'Honneur for his work in setting it up.