Jersey nurse's WW1 autograph book reunited with family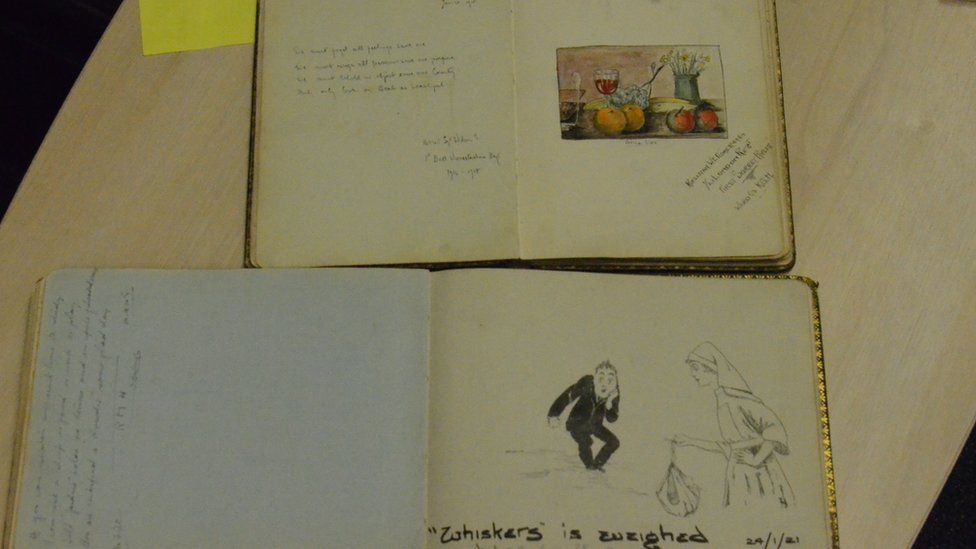 The autograph books of a nurse who cared for soldiers during World War One have been reunited with her family 100 years after the conflict.
Madeleine Louise Norman, from Jersey, was working in London treating men from the Western Front.
Her patients left messages, poems, drawings and paintings in the book, as well as their names and regiments.
The books were found in a box of "bric-a-brac" bought by collector Mario Pirozzolo in the 1980s.
"It's only recently as we commemorated 100 years since the end of the First World War I thought I'd try to trace who this lady was, and present these [the books] to her family," Mr Pirozzolo said.
After hearing Mr Pirozzolo in a radio interview, he was contacted by Peter Norman, the nurse's great nephew.
Mr Norman said he was "absolutely thrilled" to get the books, which he described as "fascinating".
On returning the albums, Mr Pirozzollo said: "It's one of those situations where you own something, but you don't really own it.
"It was the right thing to do."
"It's a window into history and the experiences of young men during war," Mr Norman said.
"The fact they could be bothered to write and sketch all this in an autograph book is very of the day.
"It's recognition of the kind of support and care they received from nurses."
Mr Norman said it was good to have the albums so family members could trace their ancestry.
"All too often people are throwing away their heritage these days," he added.
Linda Romeril, archives and collections director at Jersey Heritage, says Madeleine Louise Norman was born in 1889.
By 1911 she was working as a nurse at Jersey's General Hospital before serving as a nursing sister during World War One.
Her autograph books place her in several different hospitals during the conflict.
It's thought she continued to work in the UK after the Armistice, as travel permits from 1919 list her as "returning to duty" on the mainland after a visit home.
It is thought she returned to Jersey after World War Two as evidenced in her application to come home after the island's occupation by German forces.