Channel Islands Co-op fined £65k after butcher loses fingers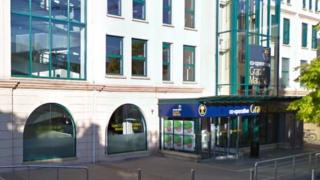 The Channel Islands Co-operative has been fined £65,000 after a worker lost four fingers in a mincer.
Butcher José Escorcio, 29, had to have major reconstructive surgery after his right hand got trapped in the machine.
Mr Escorcio had not been trained properly to use the mincer, which also did not have a safety guard, Jersey's Royal Court heard.
The supermarket admitted it had breached the island's health and safety law.
In January, Mr Escorcio was working as a butcher at the Grand Marché store in St Helier when he tried to push meat he was mincing into the machine with his hand.
He lost four fingers and most of his hand when it got pulled into the machine and had surgery at a Salisbury hospital.
More news from the Channel Islands
A safety guard had been missing for several years and Mr Escorcio had received no formal training on how to use the machine, the court heard.
However, he had been shown how to use the mincer by his manager, who had also received inadequate training, the court was told.
'We failed'
Mr Escorcio has returned to work at the Co-op and is part of a health and safety team to try to prevent similar incidents.
Channel Islands Co-op CEO Colin Macleod said: "In this occasion we failed, but the most important thing is we learn wherever we can so we don't fail again."
Jersey's Bailiff Sir William Bailhache, presiding, said he accepted the Co-op management had taken the accident seriously and the risk to Mr Escorcio had not been deliberate.
He fined the Channel Islands Co-op £65,000 plus £5,000 costs.