'Rare' hut sold on southern edge of British Isles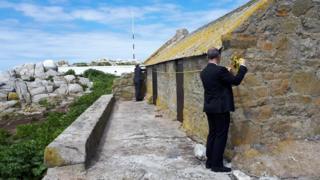 One of a few "rare" buildings at the southern-most point of the British Isles has been sold.
The hut, built on Les Minquiers - a group of rocks about nine miles (14.4 km) south of Jersey - was sold for "a six-figure sum".
Fewer than 20 huts have been built on the reef, which France sought to claim in the 1950s.
Advocate James Lawrence, who travelled by sea for a site visit, said only five had been sold in the past 50 years.
More news from the Channel Islands
The "priceless" huts are "closer in size to a garden chalet", according to Mr Lawrence, who said the property had been bought by "a Jersey company".
He added: "Ordinarily, these beautiful huts are passed through families from one generation to the next, so the fact that one was subject to a transaction is rare."
Many of the chalets are thought not to have changed hands since they were built in the 19th Century.
The area is protected by conservation treaty, the Ramsar Convention, due to its unique ecology.
In 1953 the International Court of Justice settle a dispute over the reef's sovereignty between Britain and France, who both claimed it through historical ties.
The court unanimously found in favour of the UK, and the Jersey law firm Viberts says ownership of properties on the islands by Jersey residents, who paid taxes for their maintenance, "seemed to have been a deciding factor which lead the court to that outcome".
What does 'Minquiers' mean?
Local historian Doug Ford says the reef, one of three which surround Jersey, was created about 7,000 years ago by rising sea levels.
He said: "Some say the name Minquiers is derived for the Breton word for a sanctuary - minihi, others that it comes from the Norman word for fish seller - minkier, while a third theory is that it means 'a ground teeming with fish'.
"The one thing that they all agree on is that it was a fishing ground."