'Need for reform' in Jersey elections, say international observers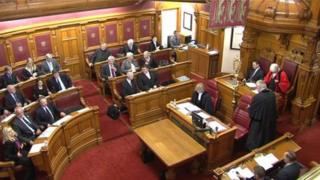 Elections in Jersey need to be "fairer" in future and there is a need to reform a number of procedures, a report said.
In the Commonwealth Parliamentary Association UK's (CPA) final report, it says May's election was transparent but certain areas need attention.
The international observers were brought in to oversee the process and issued 18 recommendations.
They include the under-regulation of campaign financing and registration of political parties.
Jamaican politician Phillip Paulwell, who led the mission, says there are many positives but reforms need to be made.
"[It was] an election based on trust and respect for rules and procedures," he said. "However, there is a need for reform.
"There must be greater equality and fairness, robust procedures and comprehensive legislation to tackle potential abuses and errors."
Jersey election 2018 - as it happened
The report said constituency boundaries for the election of Connétables are not drawn up in line with international standards.
The way States members are elected also came under scrutiny.
The report said allowing members of the outgoing legislature to stay in office "may give candidates seeking re-election... an unfair advantage".
The way electoral boundaries were divided was also an area of concern for inspectors and they said candidates frequently stood unopposed.
The report said a parish such as St Mary, with a population of 1,752, had an unequal say compared to people living in St Helier, which has 33,522 residents.
Observers said the voting system and voter registration could also be "open to abuse" with the CPA suggesting a transfer to a digital system.
It also said that "consideration should be given to introduce media regulations to ensure equal access and balanced coverage during the campaign".