Haut de la Garenne children's home 'will be kept'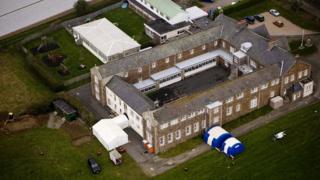 A building that was the scene of decades of child abuse will not be demolished.
Jersey's top politicians have decided to keep Haut de la Garenne, despite a recommendation from the Jersey Care Inquiry to knock it down.
Nearly all members of the public consulted said it should be kept.
The children's home was named the "house of horrors" after being at the centre of abuse allegations in the care system.
The eighth recommendation of the Jersey Care Inquiry report included the demolition of the building.
'The lucky ones'
However, a citizens' panel that was formed to decide the legacy of the inquiry voted unanimously against knocking the former care home down.
The panel included a "significant" number of survivors of the Jersey care system.
In a joint statement, they said: "We are the lucky ones, we survived - we will carry the physical and mental scars with us for the rest of our lives, but we survived.
"We, the people of Jersey, must ensure that this is never allowed to happen again."
Among their recommendations, members of the panel suggested the creation of a memorial in Royal Square, the emblem of a butterfly for the care legacy.
They also suggested marking 3 July, the date the inquiry report was released last year, as Jersey Children's Day.