Jersey election 'complicated and cumbersome' say observers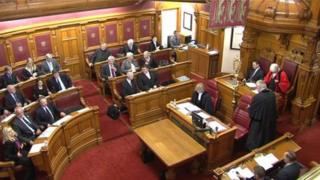 Elections in Jersey this week were "complicated and cumbersome" according to a team of international observers.
A preliminary report by the Commonwealth Parliamentary Association UK (CPA) said the hard work and professionalism of States officials was "hindered" by its electoral system.
Candidate registration and electoral boundaries were just two of the areas singled out for criticism by the group.
However, the report was positive about a number of other areas.
Those included the organisation of the election, which it said was inclusive, well executed and competitive.
The CPA said the electoral system allowed people to cast their votes in secret and "express their will in a transparent, peaceful and orderly manner".
Election officials were also praised for carrying out their functions "meticulously and impartially" as were efforts to educate and engage people in the process.
Jersey election 2018 - as it happened
Fourteen members of the States Assembly were elected unopposed on Wednesday, which the CPA said "reduced the competitiveness of the election".
The report also said allowing officials to stay in office until newly elected members were sworn in "may potentially cause a conflict of interest when seeking re-election".
Another area of concern for the observers was the way the electoral boundaries were divided.
The report said a parish such as St Mary, with a population of 1,752, had an unequal say compared to people living in St Helier, which has 33,522 residents.
The number of Deputies elected from parish and urban areas, which are weighted depending on population, was also based on the 2011 census instead of the most recent data.
Other areas criticised included candidate registration, campaign regulation, the "imbalanced nature of the printed press" and abuse on social media.