Channel Islands postal workers' plight under Nazi rule revealed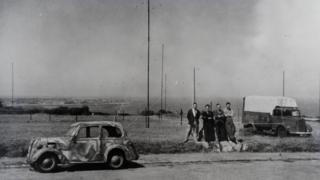 The struggle of two post office workers forced to live under Nazi rule in the Channel Islands has been revealed.
Telephone engineers Mr L Le Huray and Mr P G Warder were separated from their families for five years from 1940.
A retired BT engineer recently took files to BT Archives in London that show the islands' governments held the pair back to train staff.
Authorities also resisted an attempted rescue by the RAF, the files have also revealed.
More news from the Channel Islands.
Mr Le Hurray was one of three operators based in Jersey before the war, and Mr Warder one of five in Guernsey.
Letters between post office mangers suggested Mr Le Hurray and Mr Warder had "fallen victims to their duty" after the States of Jersey and Guernsey refused to let them leave until they had trained others to use the telecoms equipment.
Further letters say although the men were instructed to leave on 19 June and 29 June, "each time the decision was reversed after representations had been made by the island authorities".
The occupation of the Channel Islands (30 June 1940 - 9 May 1945):
28 June 1940, the Luftwaffe bombed Jersey and Guernsey, unaware that the islands were undefended, killing 44 people
30 June - 25 July 1940, German forces occupy Guernsey, Jersey, Sark, Alderney and finally Herm (although troops were not stationed there)
6 June 1944, following the D-Day landings food lines cut between the Channel Islands and German occupied France
The Red Cross ship SS Vega begins delivering food parcels as the islands begin to starve
8 May 1945, VE Day, German forces do not yet surrender
9 May 1945, Liberation Day, unconditional surrender signed by German command in the Channel islands
A rescue attempt was launched by the RAF in July 1940, but British troops again met resistance from the island's governments.
Writing in a letter to Mrs Le Huray the mission's commander, Francis Taylor, says they would have succeeded "but for the attitude adopted by the Bailiff of Guernsey" who informed him both men were being "retained" by the islands.
Communications were re-established shortly after Victory in Europe Day (8 May 1945) when, according to the post office accounts, Mr Warder decided to "take over" the post office station in Jersey.
"Presenting himself at the Jersey repeater station [he] informed the officer in charge of the guard that he intended to take over the building on behalf of the British Post Office.
"The officer clicked his heels, saluted and said 'very good Mr Warder'.
"The repeater station was once more British property."