Mother loses benefits after triplets born prematurely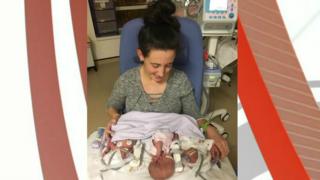 A woman who gave birth to triplets has been unable to claim some benefits for them after they were born prematurely.
Rebecca Bennett, 27, travelled from Jersey to Queen Alexandra Hospital in Portsmouth because the island did not have the required facilities.
She was later told she had lost income support for her children - who have been in the UK for nine weeks - because they were away for more than 28 days.
A States of Jersey spokeswoman said the government was working with Ms Bennett.
More news from the Channel Islands.
Rebecca's three children, who were born at 24 weeks and six days, are now nine weeks old.
Ms Bennett said the island's social security services offered her extended financial support, but not for three children, which she claimed did not cover the costs of their larger family home.
She also alleged officers told her that if she was to return to Jersey, she would receive the full amount.
She has refused to return without her children, who are still being treated in England.
The mother of three took to social media to express her "outrage" and said she was "overwhelmed by the support" of islanders.
"We hope that this can be addressed as soon as possible," Ms Bennett said.
Jersey's Department for Health said it would not comment on individual cases, but added that "generally" premature babies born or expected prior to 30 weeks would "usually" be transferred to the UK.
A States of Jersey spokeswoman said: "We are unable to comment in detail on the case in public, as we cannot comment on individual cases.
"However, we can confirm that we are in contact with the customer, and are working to assist her, and to resolve this as swiftly as possible."