Family's vegetable stand money box 'bashed open'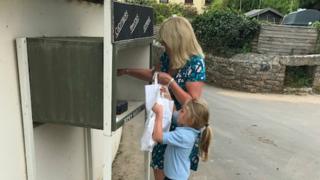 A metal money box was "bashed open" and emptied at a family's vegetable stand in Jersey.
They had been growing and selling vegetables across the summer with their five-year-old son, Winter.
About £20 is thought to have been taken from the unattended "honesty box" in St Ouen.
Following the theft there was "overwhelming response" from the community, with offers from businesses to reimburse the family.
Winter's mother, Adelina d'Orleans said her son started growing the vegetables in their kitchen from seed packets given away by the local supermarket.
She said one morning earlier this week a family member went to empty the metal box and found it "buckled", with debris inside.
"Someone must have used a rock to bash open the slot where the money goes in", she said.
After expressing her frustrations on social media, Mrs d'Orleans said: "The message was viewed by 20,000 people, and we had so many positive messages and comments from it".
In response, the Head of the Channel Islands Co-operative Society Colin McLeod, pledged to reimburse the stolen money.
The family said they would be giving any money donated to Winter's school, Les Landes School, who are running a gardening project.