Condor sailings cancelled due to bad weather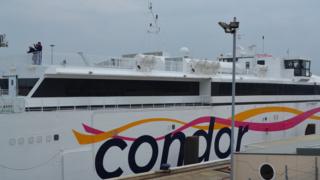 All fast ferries sailing from the Channel Islands to Poole and France have been cancelled on Monday due to high tides.
Condor Ferries said tides were predicted to reach 4.1m (13.4ft), which is outside the firm's operating limits.
The Condor Liberation from the UK and the Rapide to France will not operate. The Commodore Clipper is currently in dry dock in Falmouth.
Condor apologised and said it was experiencing high-call volumes.
Correction: 12 September 2017: This story originally said the Commodore Clipper was operating as scheduled at the time of writing which was not the case.