Rebekah Le Gal denies causing death by dangerous driving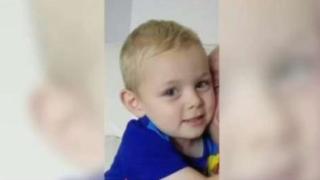 A van driver hit and killed a three-year-old boy after using a mobile phone and failing to pay attention to road signs, Jersey's Royal Court has heard.
Rebekah Le Gal, 39, was driving on Tunnel Street, St Helier, when her van hit Clinton Pringle on 27 June last year.
He was airlifted to Southampton Hospital but later died from his injuries.
Ms Le Gal, of Mont Millais, denies causing death by dangerous driving.
Prosecution counsel Mark Temple said Ms Le Gal "had not been paying attention" to signs including, those stating "No entry" and "Give way".
They said she had not noticed Clinton's mother and aunt "screaming and waving" as she approached.
The court was shown video evidence, including body-worn camera footage from a police officer who arrived soon after the collision, and CCTV footage from near the spot where Clinton was hit by the van.
The court also heard Ms Le Gal had used her mobile phone behind the wheel, to reply to a text from her son, in which he asked for his grandmother's phone number, shortly before the collision.
The trial continues.