Body found off Jersey coast in hunt for Valerie Jehan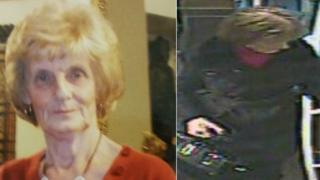 The body of a woman has been found in the sea off the Jersey coast.
Police said it was not yet possible to confirm if it was 75-year-old Valerie Jehan, who went missing more than a week ago near Devil's Hole.
At 07:00 GMT Jersey's Coastguard contacted police saying a woman's body had been found in the sea by a passing fishing vessel near Noirmont.
Mrs Jehan's family have been informed and post-mortem tests will now take place.
Mrs Jehan was last seen on CCTV on Friday, 3 March boarding a bus to Devil's Hole from St Helier.
Her handbag was later found at the site on the north of Jersey.
An air, land and sea search was carried out and had been concentrating on the 200ft (60m) high natural crater formed in the cliff.
Devil's Hole, which is 100ft (30m) across, was created by the sea gradually eroding the roof of what was once a cave, until it collapsed and formed the crater.