Joy Godfray drowning: Inquest hears of rescue attempts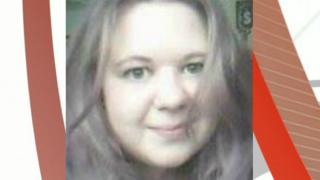 A woman who was "swept out to sea" drowned despite desperate efforts to save her, an inquest has heard.
Joy Godfray, 31, and flatmate Austin Marsh were swimming off Green Island, Jersey, on 20 August when she was dragged out by huge waves.
Mr Marsh, who managed to scramble to safety, returned to the water to help her but she was swept from his arms.
Footage of the pair, shot by a holidaymaker, showed the large waves knocking them off their feet.
The coroner, Deputy Viscount Mark Harris, praised the efforts of the public, Mr Marsh and the emergency services in trying to rescue Ms Godfray.
Andrew Hibbs, coxswain of the St Helier All Weather Lifeboat, said of the conditions on the shore: "A large swell and a big tide and the backwash off the wall made it nigh on impossible to get out."
Mark Wilkinson told the inquest of his "helplessness" as he and qualified surf lifeguard Lawrence Mackie climbed rocks to try to reach Ms Godfray.
Dr David Howell, the RNLI lifeboat medic, described the sea conditions as some of the worst he had been in.
Ms Godfray was recovered from the water by the RNLI, but pronounced dead at the General Hospital.
Her death was one of six off the coast of the British Isles in one weekend last summer.