Further delays to extending Jersey FOI law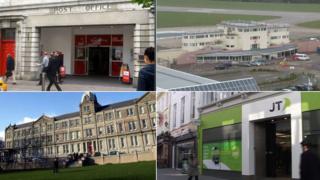 There has been a further delay to plans for bringing government-owned companies in Jersey under the Freedom of Information law, an FOI request found.
Politicians voted to extend the law in November 2014 after a proposition by Deputy Carolyn Labey.
A spokesman said the delay was down to concerns over commercial issues.
This applies to companies that provide the island's electricity, phones and postal services as well as ports and a number of large developments.
An FOI request found companies were concerned about the impact it would have on their commercial activities and dealings with other businesses.
See more on the Freedom of Information law and other stories.
Deputy Labey said it was possible to put exemptions in place to resolve the issues raised.
---
Government-owned companies
Jersey Electricity - monopoly electricity provider, partly owned by the States
JT - the largest mobile, broadband and landline phone provider, wholly owned by the States
Jersey Post - monopoly post office company, wholly owned by the States
Jersey Development Company - major development company, wholly owned by the States
---
Treasury Minister, Senator Alan Maclean, who acts as the shareholder representative for government-owned companies said there were a number of practical difficulties.
He said: "I understand that the Chief Minister's Department is actively looking at the matter and will take into consideration, amongst other factors, the approach taken in the UK and many other jurisdictions."
There are 95 jurisdictions that have some form of an FOI law and Senator Maclean says many of those exclude government owned companies if they trade commercially in a competitive market.
---
Concerns raised over extending the law
Issues of competitive disadvantage for companies subject to FOI
Trading partners reaction to dealing with the companies due to the risk of commercially sensitive information potentially being disclosed
How it will impact on rules around corporate governance and accounting
The existence of private shareholders and impact on incentives to investment
The cost of compliance and any potential impact on prices and charges
Some information is available through other means
The application of exemptions could mean few questions could be answered
Legally-binding contractual arrangements and potential breaches if information is revealed
---
Deputy Labey said: "This was a States approved proposition in the interests of an open and transparent government which many politicians claim to subscribe to.
"States departments now comply with the law as do the parishes. It cannot be right that States owned bodies do not, and would indeed be the best argument for not incorporating States owned assets."
A spokesman said the law was currently under review and that review was due to finish by the end of the first quarter of 2017 with a report as soon as possible after that.