Dean of Jersey, Bob Key, resigns after 11 years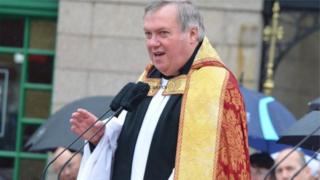 The head of the Church of England in Jersey has resigned to take up new roles with the Church nationally.
The Very Reverend Bob Key became the Dean of Jersey in 2005.
He is leaving to take up a position as part of the Archbishops' Evangelism Task Group, helping as an advocate between cathedrals and larger churches.
He was at the centre of issues between the island and the Diocese of Winchester that led to the islands moving to the diocese of Canterbury.
'Been instrumental'
The Bishop of Dover, The Rt Revd Trevor Willmott, who took responsibility for the island church when it moved to Canterbury praised the Dean.
More on the Dean resigning and other stories
He said: "During his time in Jersey, he has been instrumental in helping to build the confidence of our Church, both in its witness and service of the wider community."
The Dean had his commission withdrawn by the Bishop of Winchester, Tim Dakin, for a month in March 2013 over claims he mishandled a claim of abuse.
This is part of what led to responsibility for the Church moving to Canterbury. The Dean was later given an apology by the Archbishop of Canterbury, Justin Welby.
Dean Bob Key will leave on 28 February.