Jersey's Bailiff keeps dual role as speaker and chief judge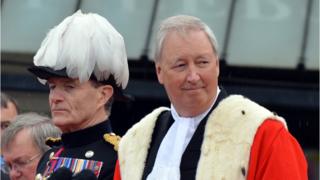 Jersey's Bailiff will remain as both speaker of parliament and chief judge, the island's parliament has ruled.
An attempt to introduce an elected speaker in about a year's time was rejected in the States of Jersey on Tuesday.
The office of Bailiff, which is a Crown appointment, is currently held by William Bailhache.
Many deputies told the States that not enough work had been done to prepare for the change.
More on the Bailiff story, plus more Channel Islands news
Duties of the Bailiff:
Head of the judiciary
President of the Royal Court
President of the Court of appeal
President of the States Assembly
Deputy Governor in the absence of the Lieutenant Governor
President of the College of Electors
Responsible for giving permission for certain types of public entertainment
Civic head of the island
Guardian of the constitution
Source: States of Jersey
The office of Bailiff has existed since the 13th Century. Originally, as president of the Royal Court, the Bailiff administered and wrote the law of the island.
This eventually evolved to the current situation where the Bailiff is the chief judge and speaker of the assembly.
The most recent reform, after the introduction of a chief minister as head of the government of Jersey, saw the right of the Bailiff to hold a casting vote in case of a tie removed.