Death of soldier in Jersey marked 100 years on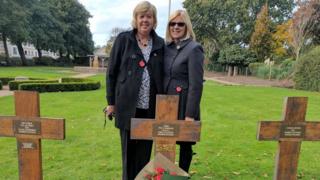 The centenary of the death of a World War One soldier has been marked by his family, who found his grave just three years ago.
Pte George Hanlon died on 11 November 1916 while defending a prisoner-of-war camp in Jersey.
A note was left on his grave in 2013 by an unknown relative, who was eventually tracked down as Rosie Weston.
A hundred years after his death, her family returned to his grave to pay respects to their great-grandfather.
More on the World War One death, plus more news from the Channel Islands
Mrs Weston's sister, Ann White, said: "It was very emotional when we did the minute's silence, it was lovely.
"I'd been told he was buried in Jersey, and I knew that he was now in a park, but other than that I didn't know where he was."
On the outbreak of war in 1914 Pte Hanlon joined the Royal Defence Corps aged 43, and was guarding a prisoner of war camp in Jersey two years later when he died.
After becoming ill, he died on 11 November 1916 from a lung condition known as pleurisy.
As part of her research before visiting the grave, Mrs White says she found out more personal details of her great-grandfather who had served in the Royal Artillery earlier in his life.
"At first he wasn't allowed back into the army on health grounds, but persevered and was eventually stationed in Jersey. Even though he wasn't a healthy man, he still wanted to do his duty.
"To be here today on the 11th hour of 11 November, the day he died, was quite something. It was fitting to come here and put a plaque on the grave, it was lovely."