Jersey car boot immigrant smuggler sentenced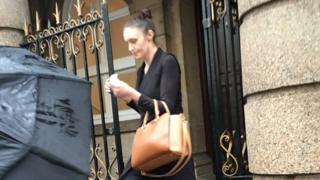 A woman who tried to smuggle her brother-in-law into Jersey inside a car boot has been sentenced to community service.
Amanda Marreakhy, 28, attempted to bring Iranian national Amir Merikhi, 28, onto the island via ferry crossing in January.
She pleaded guilty to facilitating the entry of an illegal immigrant.
Ms Marreakhy, from Leeds, was sentenced to 312 hours of community service at The Royal Court of Jersey.
The prosecution had asked for two years in prison, saying the island should not be seen as a back door into the UK.
But defence advocate James Bell said this was an exceptional case which had been motivated by compassion, not financial gain.
The judge, Deputy Bailiff Tim Le Coq, told the court he was satisfied her case met the exceptional circumstances test, and sentenced her to community service.
Mr Merikhi was discovered in the car by Customs and Immigration officers in January, after the vehicle arrived on the Condor Rapide ferry crossing from St Malo.
They had hoped to travel on to the UK from Jersey.
Merikhi was sentenced to 10 weeks' imprisonment, suspended for 12 months at Jersey Magistrate's Court in June.