'Risk' Jersey is migrants' 'back door'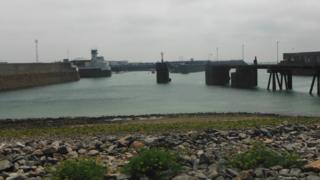 There is a "real risk" Jersey could be seen by migrants as a back door entrance to the UK, according to one of the island's most senior judges.
Sir Michael Birt made the remarks as he dismissed an appeal against a suspended sentence given to an Iranian man caught coming into the island in a car boot.
He said the courts should ensure the island "is not so used by those seeking illegal entry to the United Kingdom".
The ruling was made earlier this month but has only just been published.
Suspended sentence
Amir Merikhi, who had previously stayed at the "Jungle" migrant camp in Calais, was found in the boot of his sister-in-law's car arriving at Jersey harbour in January.
He was given a 10-week suspended prison sentence.
In his appeal Advocate Pierre Landick said the sentence did not need to act as a deterrent as it was the first offence of its kind in Jersey.
But the Royal Court, led by Commissioner and former Bailiff Sir Michael Birt, said: "It is clear that there is a real risk of the island being regarded as a form of back door entrance into the United Kingdom."
He said breaching immigration laws would lead to a custodial sentence except in exceptional cases.
Mr Merikhi was granted asylum by Jersey's Lieutenant Governor and has since left Jersey.