Jersey Electricity power plant marks 50 years of operation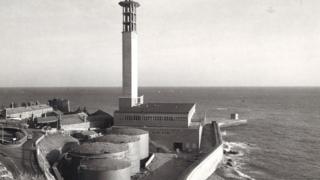 It is 50 years since the current Jersey Electricity power plant at La Colette first started producing power.
It no longer runs every day as most of the islands electricity comes from France through undersea cables.
It was first built in 1965 when the existing power plant on Queen's Road could no longer cope with demand.
The States of Jersey owns 62% of the Jersey Electricity Company, which is the only supplier of electricity in Jersey.
The Jersey Electricity Company held a small celebration to mark the anniversary on Thursday.
JE chief executive Chris Ambler said: "Our hand-written ledgers of the time show that the first units of electricity were generated from La Collette on 29 September 1966."
The first Jersey Electricity power plant was built on Albert Pier in 1925, followed by the Queen's Road station in 1934.
That is now the company's headquarters.