Jersey health charge blocked after States vote tied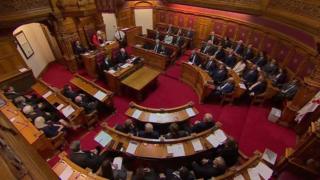 A proposed health charge for islanders in Jersey has been blocked after a tied vote.
Ministers had discussed the controversial measure as part of a four-day debate on the States' plans to tackle its financial deficit.
The health charge would have been levied against some islanders' earnings in the hope of raising £15m a year.
After a late session on Friday, the States vote on the measure was tied, 23 to 23.
Members also rejected a number of alternative proposals which could have replaced the health charge.
However, the majority of the medium term financial plan (MTFP) was approved.
Much of the debate was spent on a number of proposed amendments to the plan, most of which were rejected by members.
Summing up at the end of the debate, chief minister, Senator Ian Gorst, said the plan would deliver certainty and sustainability for the economy.
The MTFP is designed to tackle a projected black hole in the island's finances which has been blamed in part on the global banking crisis.
---
Amendments and key debates
£30,000 for a review of the tax system was rejected after a four-hour debate
£30,000 will be transferred from education to economic development to promote Jerriais - Jersey's native language
An £8,000 cut in the starting salary of newly-qualified teachers will go ahead after calls to stop it were rejected
Free nursery care will be means tested in government and private nurseries
Calls to remove an income cap on the new health charge were rejected
The new waste charge will not apply to home users without a government debate
Source: States of Jersey
---
Deputy Sam Mezec, of Reform Jersey, was critical of the plan.
"I think it will do real damage to the living damage ordinary islanders, to people we are supposed to be representing and representing the interests of," he said.
Former treasury minister and current assistant chief minister, Senator Philip Ozouf said this was the most detailed plan ever produced for Jersey's finances.
He said: "I urge members to support this plan and get us out of this black hole so we can move forward."