Jersey coin hoard marks milestone of 55,000 coins removed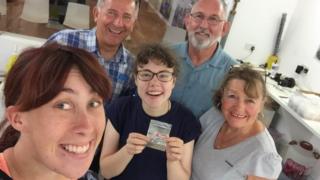 The team removing coins from the Jersey Celtic hoard have gathered more than in any other British hoard to date.
The conservationists have described it as a major milestone, there are thought to be about 70,000 coins in the hoard.
By the end of the day on Friday the team had removed 55,014 coins, 63 more than the previous largest Roman Cunetio hoard found in Wiltshire.
The team are clearing the coins in view of the public in a special laboratory at La Hougue Bie Museum in Grouville.
The Jersey Heritage team has spent two years removing the coins one by one from the hoard discovered by two metal detector enthusiasts in 2012.
The value of the hoard will not be known until next year when the States will have to decide whether to pay to keep it in the island.