Jersey by-election: Sarah Ferguson elected as Senator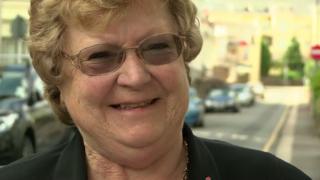 Turnout in the Jersey by-election for Senator was one of the lowest in the post-war period at just over 20%.
Sarah Ferguson, with 3,649 votes, won nine of the 12 parishes.
The election was for a seat made vacant by former Senator Dr Zoe Cameron, who resigned over a "culture of denial" in the State assembly.
There were 11 candidates for one vacant seat with an all-island mandate, representing all of Jersey's 100,000 residents.
Mrs Ferguson said: "I would like to thank all voters, supporters and my team for a very close, well-fought race to the end."
Turnout was 20% with Mrs Ferguson winning with 131 more votes than second-placed Sam Mezec.
Dr Cameron resigned from her seat in July 2016 and candidates were declared at the St Helier Town Hall a month later.
The candidates were (Independent unless stated): Alvin Aaron, Guy de Faye, Mike Dun, Sarah Ferguson, Nick Le Cornu, Christian May, Sam Mezec (Reform Jersey), Stevie Ocean, Mary O'Keeffe-Burgher, Hugh Raymond and John Young.
Mrs Ferguson will be sworn in to the States Assembly on Friday and will attend her first sitting on Tuesday.
She was first elected to the States as a Deputy in 2002 and first elected as a senator in 2008. She narrowly lost out to Philip Ozouf in 2014.
The next election in Jersey is in May 2018 when the whole island goes to the polls.
| Candidate | Votes |
| --- | --- |
| Sarah Ferguson | 3,649 |
| Sam Mezec | 3,518 |
| Christian May | 2,018 |
| John Young | 1,240 |
| Hugh Raymond | 988 |
| Guy de Faye | 254 |
| Mary O'Keeffe-Burgher | 246 |
| Nick Le Cornu | 139 |
| Alvin Aaron | 103 |
| Mike Dun | 73 |
| Stevie Ocean | 70 |