Jersey by-election: Polls close for senatorial seat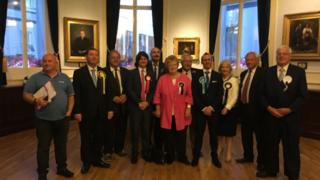 Polls have closed in the by-election for senator in Jersey.
The election is for a seat made vacant by former Senator Dr Zoe Cameron who resigned over a "culture of denial" in the State assembly.
There are 11 candidates for the seat, which comes with an all-island mandate, representing all of Jersey's 100,000 residents.
Each parish will declare their results but the successful candidate will not be known until all have declared.
Turnout is predicted to have been very low.
Dr Cameron resigned from her seat on 12 July 2016 and candidates were declared at the St Helier Town Hall on 9 August 2016.
The candidates are (Independent unless stated): Alvin Aaron, Guy de Faye, Mike Dun, Sarah Ferguson, Nick Le Cornu, Christian May, Sam Mezec (Reform Jersey), Stevie Ocean, Mary O'Keeffe-Burgher, Hugh Raymond and John Young.