WW2 shells and mine discovered at Grouville Bay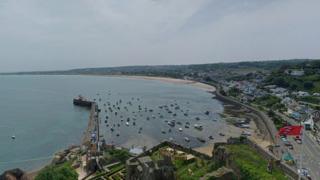 Several "dangerous" World War Two shells and bombs have been destroyed after being discovered by a metal dectectorist.
The German weapons were discovered at Grouville Bay on Wednesday and destroyed by the bomb disposal unit.
The Channel Islands were the only British territories to be occupied by the Nazis during the war.
Bomb disposal officer Stuart Elliot said all the weapons were "apparently in a dangerous state and condition".
"I can now confirm we had eight anti-tank shells - 37mm anti-tank shells - two mortar bombs and a German mine," he said.