Fungus killer levels 'stable' in mains water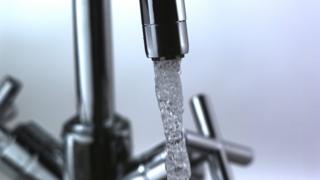 Levels of a fungicide are now "stable" in Jersey's mains water according to the island's Environment department.
Oxadixyl was used on potato crops in Jersey until 2003 and then withdrawn but traces of the chemical had been found in the island's water supply.
The government was preparing to allow Oxadixyl levels to exceed the legal limit so an affected reservoir could be used in the summer.
But now the chemical has "levelled off".
Val de la Mare reservoir had been out of action for several months after the fungicide was found in island streams.
Jersey Water applied for a dispensation from regulatory limits so the reservoir could be used in the summer months.
It was granted as "a precautionary measure" so that Jersey Water could blend water from Val de la Mare with other reservoirs to supply mains water in the warmer months.
Fungicide explained
A fungicide is a chemical that destroys fungus and its spores
Mainly used to protect fruit and vegetables, cereals and rice from fungal diseases
Fungal diseases can affect crop yield and overall quality
Fungicide comes in a spray or dust form
Oxadixyl, a fungicide, was used in Jersey - a major potato exporter - to battle potato disease between 1991 and 2003
Environment Minister Steve Luce gave the go ahead in June but he has now announced such a move will no longer be necessary.
"I'm encouraged by the levelling off of Oxadixyl in the streams. Consequently, Jersey Water hasn't needed to use the dispensation and our water remains below the legal limit.
"Jersey Water is continuing to blend water from several reservoirs to make this happen."
Deputy Luce added he was "encouraged" that levels of other pesticides used in potato farming in Jersey were also being detected at "much lower levels" and were "below the legal limit."
The Environment department has developed a Water Plan to tackle the use of pesticides in the island.