Men stranded on rocks due to 'poor tide awareness' rescued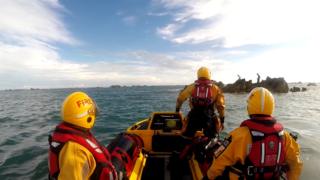 Two men stranded on rocks due to "poor tide awareness" have been rescued.
Jersey's inshore rescue boat was called to help the men who were 330ft (100m) from shore near La Mare slipway in Saint Clement at 18:00 BST on Thursday.
Jersey Fire & Rescue said the men had tried to swim to shore but aborted the idea because one of them was an inexperienced swimmer.
It follows several incidents in 2016 of people being rescued after being cut off by the tide in Jersey.
A man was stranded in St Aubin, three girls were rescued at West Park, and a woman was cut off at La Corbiere in April.
A spokesman said: "Once again a lack of awareness regarding local tidal movements has meant that members of public have been caught out and have needed rescuing.
"The males in question at this incident eventually made the right decision and made their way to the highest point possible on the rocks they were stranded on."