Broadlands estate agents 'misled public' over standards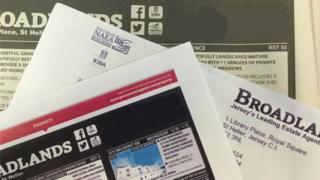 An estate agent has been criticised for "misleading" the public after falsely claiming to be part of a trade association.
Broadlands in Jersey has been using the National Association of Estate Agents (NAEA) logo in newspaper advertisements and client contracts.
However, the NAEA confirmed the company had not been a member since 2010.
The managing director of Broadlands said he was embarrassed by the "honest oversight".
"I can assure you we have public indemnity and comply with everything the national association wants us to do", Roger Trower said, adding that Broadlands would be reinstating its membership as soon as possible.
Mark Hayward, managing director of the NAEA said member companies had to comply with regulations established by the National Federation of Property Professionals (NFoPP).
"Whilst they [Broadlands] continue to use the NAEA logo it is misleading of the general public, as they portray themselves as members but offer none of the protection, minimum standards, redress, indemnity insurance, ethics and codes of practice that goes with an NAEA firm", he said.
Unlike in the UK, membership of a trade association is not a legal requirement for estate agents in Jersey and there is currently no law preventing companies from wrongly claiming to be part of a trade body.
Alison de Bourcier from Trading Standards in Jersey said a new law was currently being drafter to make it an offence.