Armed police attend Jersey shelter over weapon threats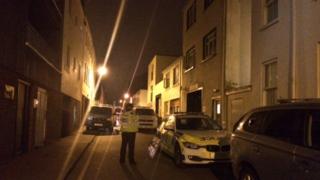 Staff and residents at a homeless shelter were evacuated for nearly four hours by armed police after a man with a weapon threatened to harm them.
The man, aged 20, made the threats as he locked himself in a room at The Shelter on Lewis Street in Jersey on Sunday evening, police said.
Officers eventually gained entry to the room and arrested the man on suspicion of affray and malicious damage.
The road was cordoned off until just before midnight.
The man remains in custody.