Jersey sea rescue: Man saved from drowning is arrested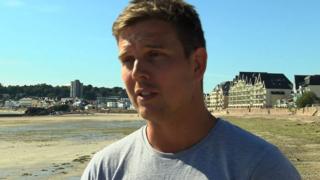 A passing jogger saved the life of a drowning man - who was then arrested on suspicion of taking a car and a boat.
Lucas Parker was running along the coast in St Clement, Jersey on Friday morning when he saw a submerged car and a man in the sea.
He said he felt he "had to get out there" to help.
Mr Parker said: "He probably only had another minute left himself, he had given up, he was wasting his energy shouting."
He added: "He was very grateful I was nearby, if I hadn't gone they would have been pulling out a floating body."
Fire and rescue officers said Mr Parker saved the man's life.
Mr Parker said he was "probably very stupid" for swimming out to sea as he was not a very strong swimmer but felt it was the right thing to do.
He said: "I heard the bloke screaming for his life and managed to get to him and give him a bit of reassurance.
"I carried him to the boat which felt like a lifetime away. When I got there I was out of energy and didn't have time to relax or get myself together."
He said he rested, clinging to the boat for a few minutes, and then found the energy to put the man, who has not been named, into the boat, climb in himself and put the man in the recovery position.
"I did my best to keep him calm and wait for the inshore lifeboat to come down."
Police said a car and motorboat were stolen from a nearby parking lot about an hour before the man was rescued.