Jersey sea rescue: Passer-by "saves man's life"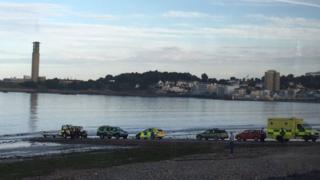 A man was rescued from the sea by a passer-by who swam out and pulled him onto a stranded boat.
Emergency services were called to Greve d'Azette in St Clement about a submerged car and a boat seen drifting in the sea.
Police said the vehicles had been reported stolen from a nearby parking lot earlier on Friday.
Fire officers said the actions of the passer-by "saved this young person's life".
A 31-year-old man, who has not been named, was taken to Jersey General Hospital. He is in a stable condition.
The onlooker spotted the man "struggling in the water", according to Jersey Fire and Rescue.
Crew Commander Craig Channing said: "There is no doubt that the swift and selfless actions of the passer-by saved this young person's life.
"By swimming out and rescuing the casualty and climbing aboard the partly submerged vessel with the casualty, he ensured the casualty had the best chance of survival and his actions are to be commended."
Mr Channing said when officers arrived the car was not visible as it was "fully submerged by the fast-flowing, incoming tide".
"A partly submerged small motor cruiser was visible with two casualties on board," he added.
The rescuer did not require hospital treatment.
States of Jersey Police and Jersey Coastguard are investigating the circumstances.