Jersey taxi drivers to have regular criminal checks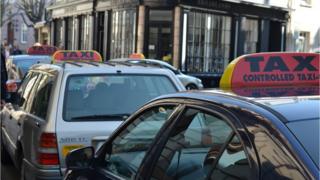 Criminal background checks for taxi drivers in Jersey are being tightened up as part of a range of reforms to the taxi industry.
Drivers currently have to have a standard criminal check when they apply for a licence.
From October they will have to have a tougher, enhanced check every three years.
Mick Tostevin, from the taxi drivers association, says extra measures are having to be paid for by drivers.
He said: "It is another cost and there are other things in the pipeline like booster seats and extra training.
"This all has a cost and so the drivers will be looking somehow or another to recoup some of these costs."
Mr Tostevin said despite this the moves were necessary. He said some drivers had been working for more than 25-years and so had never had a police check.
Deputy Eddie Noel, Minister for Infrastructure, said: "It is important that passengers in taxi cabs have confidence in their drivers. This is one of the measures we are using to increase that confidence."
Taxi drivers in Jersey went on strike in May over plans to increase the number of wheelchair friendly vehicles. A lower figure was eventually agreed.