Jersey economic risks 'increased' after Brexit says expert panel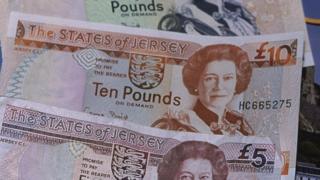 Financial advisors to Jersey's government have said risks to the economy have increased as a result of the Brexit vote.
However, in its latest report, the Fiscal Policy Panel said it was too early to know what problems would arise or how bad they will be.
Members advised ministers to press ahead with plans to balance Jersey's budget over the next three years.
Treasury Minister, Senator Alan Maclean, welcomed the report.
He said: "This is an important juncture in UK politics, which is why I felt it necessary to commission an update report without delay.
"The Panel highlight that while there is significant economic uncertainty about the impact of the referendum result on the UK economy, the Jersey economy is not likely to be immune to any impacts."
'Negative impact'
The panel said the current uncertainty will be temporary but it predicts the UK's financial services sector could suffer, with knock-on effects for Jersey.
"The average [growth] forecast for 2016 is now about 0.5% lower and for 2017 1.8% lower than forecast before the UK's referendum. These reductions mean that the UK economy is expected to be in recession or near recession over that period," the panel said.
"This will have a negative impact on Jersey."
It added that if plans to balance the books failed, ministers should look to Jersey's cash reserves rather than hiking taxes or slashing spending.