Jersey's 1937 airport arrivals hall to be demolished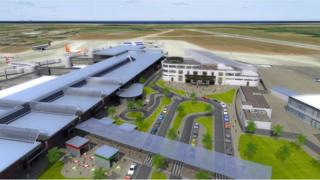 Work to demolish Jersey's old airport building will begin next year, under plans to redevelop the site.
The top two floors of the terminal, known as the 1937 building, have been removed to meet safety criteria.
It is part of the proposed £65m redevlopment to meet new safety guidelines and increasing demand.
Chief executive Doug Bannister said demolishing the building would help to relax some restrictions on aircraft landing in fog, allowing more in.
A multi-storey car park could also be built near the airport roundabout as part of the redevelopment.
Mr Bannister said the money would come from parking charges, more shops and other airport charges and government funding was not being sought.
He said: "As an organisation we acknowledge the need to make these necessary safety improvements if we are to remain operationally compliant but at the same time it allows us the opportunity to invest in the future."
---
Jersey Airport history
The first aeroplane landed in Jersey in 1912
Originally the beach at West Park in St Helier was used as the airfield
On 10 March 1937 Jersey Airport opened in St Peter, costing £127,000
Within a year about 20,000 visitors flew to Jersey into the island's airport
In the 1950s a new Tarmac runway was built with hundreds of thousands of visitors each year
In 1997 a new departure terminal was opened, providing more space for passengers
Source: Jersey Airport
---
The project is dependent on the Ports of Jersey cash flows during the next five to 10 years and will start with the demolition of the arrivals building.
Currently pilots must be able to see the ground from 200 ft up before they can land. That could be reduced if the size and shape of the airport buildings are changed.
The airport and harbours were incorporated into a new company, called Ports of Jersey - wholly owned by the States of Jersey - in 2015.
Ports of Jersey will fund the redevelopment costs itself, rather than using government money.