Jersey 'quarry like beach' cleared after cafe complaints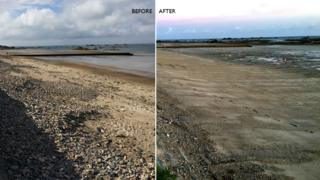 A beach cafe has reopened after rocks that made the area "look like a quarry" were removed.
Nigel Coutanche, who runs the La Mare Slip beach cafe, said the rocks were putting people off visiting the beach.
They were pushed against the sea wall leaving little to no sand after storms earlier in the year.
The Infrastructure Department removed about 200m of rocks, costing between £1,000 and £2,000 from the cafe to the car park at La Mare slipway.
Mr Coutanche said: "Now that the rocks have been removed and the beached has been restored as requested we are now open again six days a week.
The beach is part of a Ramsar area so special permission to remove the rocks or change the nature of the beach was needed from the Environment Department.
Infrastructure Minister, Deputy Eddie Noel said: "What was a sandy beach has now become a pebble beach. We have agreed to remove a 200m stretch from the slip to the car park."
He claimed the site was "almost certain to revert to sand on its own when we have the high tides in the Autumn".