Senator Zoe Cameron resigns over island's 'culture of denial'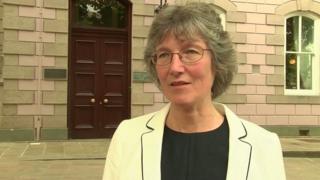 An island politician has resigned over a "culture of denial" within Jersey's government and health service.
GP Zoe Cameron said the States made "slow progress" over challenging and questioning health policies.
She said: "The atmosphere is still one of scapegoating and looking to blame individuals."
Chief minister Senator Ian Gorst described her as an "able politician" and said her resignation was a surprise.
Health and Social Services are yet to comment but a statement is expected later.
Mr Gorst said: "She will be missed and I believe she has a lot to give the island.
"She's done a lot of one-to-one casework with constituents trying to represent their cases in government."
'More active role'
Dr Cameron, who was Jersey's only female senator, was unsuccessful in her bid to become health minister.
She was elected in October 2014 with 10,412 votes and told those who supported her: "I'm very sorry I haven't been able to achieve more of what I set out in my manifesto.
"I wish I'd had a more active role."
Dr Cameron said having a single health minister was not a healthy approach as "it is not possible for one individual to know all the answers."
She said it would be better to have a group of ministers to offer different perspectives.
"Most of the concerns that I've had about the way the health department is run I've brought to the attention of political colleagues now.
"I think there is a better awareness now of the very real issues that exist for frontline staff and patients," she added.
Mr Gorst said work would now start on when to hold a by-election to replace Dr Cameron.