Jersey water nitrate clean-up 'could cost millions'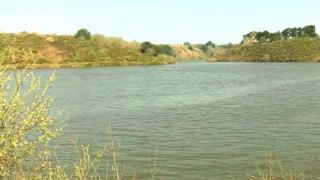 Reducing the levels of nitrate in Jersey's water could cost more than £30m, according to a new report.
The details were part of a new Water Management Plan published by the States of Jersey Environment department.
Despite improvements over the past 15 years, Jersey's groundwater and streams still have some of the highest levels of nitrates in Europe.
By law, Jersey Water must supply drinking water with a nitrate concentration of below 50 milligrams.
Jersey Water said it regularly needs to blend water from different sources to meet legal nitrate levels.
---
What are nitrates?
Nitrate is a common groundwater contaminant
It is regulated in drinking water because excess levels can be dangerous in small children
There should be no more than 50mg per litre of drinking water
Nitrate in groundwater originates from fertilizers, septic systems and manure storage
Source: Defra
---
Minister for the Environment, Deputy Steve Luce, said: "More than half of our countryside is intensively farmed and we have large areas of urban development.
"Everyone has a responsibility to look after the water resources that we rely on.
"We're working alongside Jersey Water and farmers, who are behind this plan, to make significant changes to reduce nitrate and pesticide levels - with the force of law if necessary".
Mr Luce said the problems identified in the plan were longstanding and complex to resolve, including high levels of nitrates, phosphates and pesticides in streams and ground waters.
The Environment Department said that if nitrate levels were not brought under control, a nitrate removal plant may be needed as part of the new sewage works at Bellazone.