Doctor's 'job termination unfair' claim rejected by ministers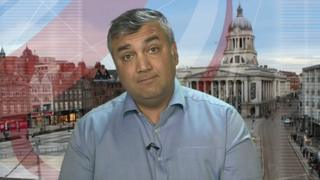 Findings that an eye consultant was unfairly treated when his job offer was withdrawn have been rejected by the Jersey government.
Dr Amar Alwitry had hoped to return to Jersey after a career in the UK, but a job offer was withdrawn after he queried certain practices.
A complaints panel said his treatment by the States was "appallingly shabby".
Ministers have accused the panel of calling the integrity and honesty of staff into question.
Mr Alwitry had been due to start at Jersey's General Hospital in December 2012 but was told a week before by the States Employment Board (SEB) his contract had been terminated.
The glaucoma specialist said he was told by senior staff at the hospital to "put up or shut up" when he suggested changes to procedures including weekend operating.
The complaints board findings were published on the States Assembly website and it urged Ministers to compensate Dr Alwitry.
'trouble maker'
It found managers had terminated Mr Alwitry's contract based on their subjective beliefs he was a "troublemaker" and the decision-making process was not sufficiently transparent.
The States Employment Board and the Health Minister, Senator Andrew Green, dismissed those concerns, saying even if procedures had been followed, the outcome would have been the same.
Mr Green said he "stood by the staff who made the decision not to employ him".
The States Employment Board, which is lead by the Chief Minister, also criticised the Complaints Board which is chaired by a retired senior advocate.
The SEB says the complaints board strayed from its terms of reference and ignored evidence provided by a former Solicitor General.
Dr Alwitry said he had not found a permanent NHS position since he had resigned as a substantive consultant in Derby to move to Jersey and is considering legal action.