£8,000 salary cut for new teachers in Jersey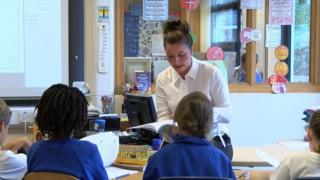 Newly-qualified teachers in Jersey will have their annual salaries slashed by £8,000, the government has announced.
The reduction, from £33,000 to £25,000, is one of several spending cuts announced by the education department, including a £150 cut per child in subsidies to fee-paying schools.
The States of Jersey has laid out plans to save £73m annually by 2019.
Rob Ward, from the National Union of Teachers (NUT), said the changes would fail to attract teachers to the island.
He said: "It is very expensive to live in Jersey, particularly if you're a family.
"There are certain sections of society that would find it almost impossible to stay here and I think we need to reflect that in our payment."
However, the head of education, Justin Donovan, said teachers in subjects facing a shortage would continue to get higher salaries to ensure Jersey could "compete in the market", but savings were needed to meet financial targets.
He said: "Here, they earn around about £11,000 more than the starting salary in England."
The revised pay packet is more than the £22,000 minimum starting salary for newly-qualified teachers in England, but less than the salaries of those in central London who start on nearly £28,000.