Taxpayer to pay less to balance Jersey's books by 2019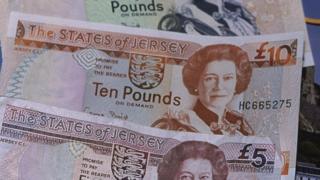 Taxpayers will contribute less than previously expected in order to balance Jersey's budget, the government has announced.
A target of £90m annual savings by 2019 has been revised to £73m following signs of growth in the economy and increased government income.
However, States jobs will be cut and a health tax will be introduced.
Chief minister Ian Gorst said the plan would help Jersey prepare for future challenges.
Mr Gorst singled out "the demographic change" the island faces with an ageing population, as well as the need to ensure Jersey was "competitive from an educational perspective around the globe".
Balancing the books by 2019: How will you be affected?
Over 400 States jobs to be cut; offset by about 300 new positions created in health and education
A progressive tax of up to 1% of income to raise £15m for the health service
A freeze on 2015 benefit spending levels until 2019
Means tested funding for nursery education
Extra funding for disadvantaged pupils through the introduction of pupil premium, starting this year
Businesses and parish authorities will start covering some of the cost of processing household waste, previously paid for by the taxpayer
The health charge will raise £15m a year - less than half the £35m previously predicted by ministers - by charging taxpayers up to 0.5% of their income in 2018 and 1% from 2019.
Mr Gorst said the government was asking the public "to put their hands in their pockets" to provide £15m of the £70m that had been invested in health services over the last two financial plans, but said those earning "the very least" would not have to contribute.
"Only 15% of taxpayers pay at the full 20% rate and, therefore, they will be the only ones paying at the full 0.5% [rate] in 2018 and 1% in 2019", he said.
In total 407 States jobs will be cut by 2019, but there will be 304 new positions introduced in health and education.
The new spending plans for 2017 to 2019 will be debated by the States in September.