WW2 Jersey liberation veteran Eric Walker dies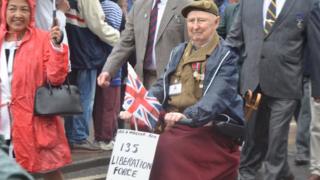 One of the last veterans of Jersey's World War Two liberation forces has died at the age of 93.
Eric Walker left England in 1945 to serve in Force 135, the unit tasked with liberating the Channel Islands.
He was awarded a British Empire Medal for his service and worked for 35 years helping clear 50,000 mines left on the island by the Germans.
On Liberation Day, Mr Walker met his "beautiful" wife Sheila and stayed in Jersey for more than 70 years.
"When we arrived we were mobbed by ecstatic crowds, girls were asking for our autographs," Mr Walker previously told the BBC.
"[Sheila and I] arranged to meet that night but I had to get rid of a German booby trap - but by chance we went to the same rendezvous point the next night," he said.
During the war Mr Walker had carried out bomb disposal work in London and the south of England.
He recalled that before landing in Jersey his commanding officer, Brigadier Snow, told the men: "Don't annoy the enemy, there's 15,000 of them and only 600 of you."
Mark Lamerton, an author who has written about Mr Walker's Force 135, said he "had the privilege of meeting him on several occasions" and was "saddened" to hear about his death.
Mr Walker would be remembered "swiftly moving around town" in his mobility scooter "especially around Poppy Day and Liberation Day" with his battle vest jacket bearing Force 135 insignia, Mr Lamerton said.
He added: "He was from a different era... a remarkable man full of knowledge."
Mr Walker leaves behind his wife.