Jersey streets filled as thousands parade for Dance World cup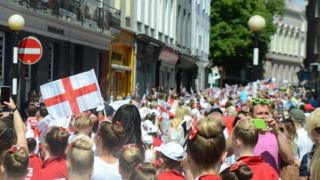 Thousands of people danced through the streets of St Helier to mark the opening of the Dance World Cup in Jersey.
Young dancers from around the world are in the island to compete in the week long event based at Fort Regent.
Organisers described it as "huge event" for the island bringing in nearly 5,000 dancers, their families and supporters.
The parade went from the Weighbridge to Springfield Stadium and was led by the Band of the Island of Jersey.
Marching at the head of the parade was one of the event judges, Pussycat Dolls performer, Kimberly Wyatt.
She said: "This is my first visit to Jersey, it is so beautiful and this is such an incredible event.
"I can't wait to be inspired by the incredible talent, I've seen the amazing excitement on social media and in the island.
"The kids are ready to go out and show just what they have been working on."
This is the largest sporting event ever held in Jersey. England had the largest team in the competition, follow by home island Jersey.
There are about 3,000 competitors from 33 different countries taking part in the event, that was last held in Romania.
At the handover event in 2015, Jersey's minister responsible for sport made headlines when he went to Budapest instead of Bucharest.