Immigration to Jersey up 1,500 since last year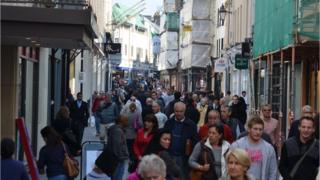 Net immigration to Jersey increased by about 1,500 in 2015, the highest rise in more than a decade.
According to the resident population estimate by the Jersey Statistics unit, Jersey's population is now 102,700.
Senator Paul Routier, the assistant minister responsible for population, said they were reviewing licences to work on a case-by-case basis.
The total population has increased by about 1,700 since 2015 and 4,800 since the last census in 2011.
Of those 1,700 people, about 200 were due to more births than deaths.
Jersey population increase
102,700
Total population of Jersey at the end of 2015
1,700 Total increase in the population between 2014 and 2015

220 More births than deaths in 2015

11,700 Population increase over the past decade from 2005

1,500 People moved to the island in 2015, nearly double the year before
BBC
Mr Routier said: "We need to monitor migration figures carefully, we don't know what will happen with Brexit, there could be a totally different approach.
"We need to make a judgement on what requests we get. It is very difficult to say what is going to happen in the future.
"What we do is react to businesses needs and make the right decision to each business application and I hope we are doing that."