Jersey Dairy herd book marks 150-years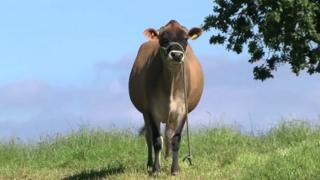 For 150-years every cow born in Jersey has been logged and tracked in a book known as the Island Herd Book.
The first two, a cow named Daisy and a bull named Dandy, started a guide that can now be used to trace the lineage of every cow born in Jersey.
Despite coming from a 45 square mile island, the Jersey is now the second most numerous dairy breed in the world.
The World Jersey Cattle Bureau claims there are Jersey cows in almost every country in the world.
James Godfrey from the Royal Jersey Agricultural and Horticultural Society said the book is in part responsible for the success of the island breed.
The Jersey was first recognised as a separate species of cattle around 1700 and by the end of the century the import of foreign cattle was banned.
Subsequent control and breeding led to the creation of the brown, large eyed cows prevalent in the island today.
Less than 100-years later the herd book was created. Mr Godfrey said over time this has evolved from "a list of names, owners and dates of birth".
He said: "Now it is a complete database that includes pedigree information, production and health characteristics as well as DNA."
Jersey farmer Tom Perchard, whose family has been farming Jerseys for three generations, said the future looked good.
He said: "Hopefully we can continue on from the anniversary and build on another 150 years of entries into the herd book.
"The Jersey breed has that staying power and long may it continue."