Fungicide in Jersey mains water allowed to exceed legal limit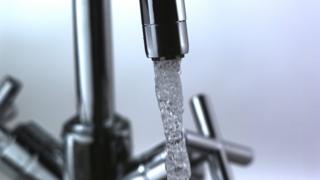 A government minister has allowed for the levels of a fungicide in mains water to exceed the legal limit.
The levels of Oxadixyl would remain "well below health-based limits", the island's water board claimed.
Val de la Mare reservoir has been out of action for five months after the chemical was found in island streams.
Jersey Water applied for a dispensation from regulatory limits so the reservoir could be used in the summer months.
Jersey's environment minister, Steve Luce, granted the permission.
'Wrong way'
The water board said the regulatory limit for Oxadixyl in treated water is 0.1 Micrograms per litre (ug/l) - equivalent to one part in 10 billion.
The new temporary limit - for three years - has been set at 0.3ug/l, which Jersey Water says is "100 times lower than the already prudent health-based limit of 30ug/l".
Jersey Water's Chief Executive Helier Smith said: "We are working hard to find a way to remove Oxadixyl through treatment but in the meantime will work to complying with the lower regulatory limit where it is practical for us to do so."
But local environmentalist, Mark Forskitt, said it was the "wrong way of doing things."
He said he opposed "the notion that 'we've got some rules, they're broken, so we'll change them.'"
"Some of these limits aren't just about human health", he added.
The fungicide was used to control potato blight in the island between 1991 and 2003 but has not been used since.