Jersey Bat Group find rare bat species first identified in Greece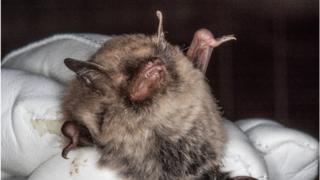 A rare species of bat has been found in Jersey for the first time.
At a recent study in St Catherine's Woods, members of a local group found the small mammal, known as myotis alcathoe.
The bat was first identified in Greece 15-years ago, and has only been found in the UK in small numbers in Yorkshire and Sussex.
The Jersey Bat Group caught the pregnant female during a research night in St Catherine.
Myotis alcathoe is a woodland specialist and normally roosts in trees, however there are no known tree roosts in Jersey.
---
About Myotis alcathoe
Labelled as "data deficient" by the International Union for Conservation of Nature's Red List of Threatened Species
It is believed to be a tree dwelling and forest foraging species
The species was first discovered in Greece in 2001
It is a small bat with reddish-brown fur
They are usually found in old-growth forests near water and roosts in cavities high in trees
Source: IUCN Red List
---
Annika Binet from the group said: "If this bat had been a male it would be possible that it is a vagrant from France. They sometimes get blown across in storms, or hitch a ride in boats.
"As it was a pregnant female the odds are that it is a resident species, which we have always had but never previously come across."
Dr Amy Hall from the group said she hoped they would make more discoveries.
She said: "We are very excited to find this species in the island for the first time. There may be further exciting new discoveries".