Jersey's new hospital to be built on existing site after £5m search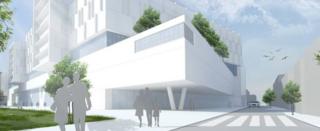 Jersey's new hospital will be built in the same place as the existing hospital, following a four-year search at a cost of £5m.
Senator Andrew Green said it would also include some adjoining properties in Kensington Place.
The minister's original preferred option, People's Park in St Helier, was removed following protests and a petition earlier this year.
Redeveloping and extending the existing hospital will cost about £450m.
A number of sites had been put on the shortlist, including the current site in the Parade, Overdale Hospital and the St Helier Waterfront.
---
Benefits of the current site
Deliver a new build high-quality hospital
Be delivered in eight years, in a single main construction phase
Minimise disruption to the current hospital during construction, which would not have been the case with the previous plan to use the existing site
Source: Health and Social Services
---
A Freedom of Information request in March revealed £5.05m had been spent on the site search since 2012. More than half of that was spent on outside advisors.
Mr Green said: "It is right that so many site options were considered, as this is such an important decision. However, it is important that we now commence planning for our future hospital in earnest.
"We are all well aware by now that there is no perfect solution, but this option, including Peter Crill House, the current Gwyneth Huelin wing and extending to Kensington Place has many benefits."
He said it was too early to say when work would begin or the design would be released as officials needed to put plans out to consultation.