Jersey minister revises plans to means-test nursery funding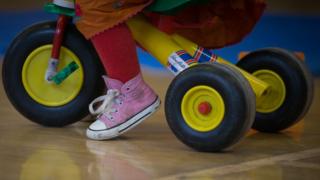 Plans to scrap nursery funding for parents earning over £75,000 have been revised by the education minister.
Deputy Rod Bryans faced an intense backlash from parents, with nearly 3,000 people signing a petition against the plans.
Now, rather than all funding being cut for households with an income of more than £75,000, it will gradually reduce after £85,000.
Mr Bryans said families earning more than £100,000 would not be eligible.
New proposals will mean parents are able to claim fewer hours for nursery care the more they earn.
The funding offers 20 hours per week of nursery care for pre-school children aged three and four.
---
Funding eligibility
Household income of £85,000 and below - 20 hours
Household income of £85,000 to £90,000 - 15 hours
Household income of £90,000 to £95,000 - 10 hours
Household income of £95,000 to £100,000 - 5 hours
Household income of £100,000 and above - not eligible
Source: Department of Education
---
Mr Bryans said he regretted causing confusion by an earlier announcement, and that it had always been his intention to take in as many opinions as possible before making such decisions.
It currently costs about £1.9m per year and the changes are expected to save about £250,000.
The States pays £3,914 per child over the course of an academic year for the places in private nurseries.
The changes to the Nursery Education Fund will not affect places at state school nurseries.